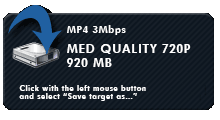 If you have any comments about the movie, I suggest using the Synaptic.TV page or the Youtube page of the old trailer.




-----------------

2019-15-06 : The film is now Full HD 1080p! I was keen on trying new upscaling gadjets and I had opened the old project files with all the original sources. I started playing with it, clip by clip, and then went to look at the quality of the online version dating back 2008. It was atrocious with outdated codecs and low quality compression. The film was shot in 24p with the Panasonic DVX100a and the sources with the DV codec were way more pleasing to the eye. Once I had started I couldn't stop the upscaling process and remastering. 50+ hours later I have a new version. The edit is the same but the special effects had to be redone for the most part. The subtitles are also way better for what should be the definitive Crossing Shadows experience.

2010-11-01 : Shadowrun will be presented at SnowCon saturday january 16th 2010 at 8hPM. SnowCon is in Orono, Maine. It's with a lot of thrill that Josua Gaumond-Lacerte, Guillaume Goudreault, Iphigénie Frey and myself will be there live to present the movie and host a Q&A. More information on the official site.

2009-09-17 : After GenCon, Crossing Shadows was just invited to another convention. More info as it unfolds. For all the details and pictures from our showing of Crossing Shadows in Indianapolis follow this link

2009-07-15 : Shadowrun : Crossing Shadows will be screened in Indianapolis at Gen Con Indy 2009. 3 showings on august 13, 14 and 15th at 6:30 PM.

2009-01-17 : Last tuesday Kino 3R gave me 3 prizes for La course des ombres:
Best film : La course des Ombres (Olivier Bonenfant)
Best direction : La course des Ombres (Olivier Bonenfant)
Public prize : La course des Ombres (Olivier Bonenfant)
20-04-2008 : Thanks to Destructoid for posting the movie.

As seen on the Dumpshock forums :
- It was great! [..] Very, very good job! (Insomnia Strikes Again)
- Just watched it. That was incredible. (Game2BHappy)
- Very impressive. The effects were excellent, especially the eyes / matrix / invisibility and astral projection. Entertaining story as well! Excellent work, and pure fun for us shadowrun lovers out there. (fulcra)
- Seriously good movie, I enjoyed every minute. (fatal2ty)
- Excellent ending! (Wounded Ronin)

01-04-2008 : English version! The english version is finally available on www.shadowrunmovie.com. Download the highest quality version here. If any of the links is down because of bandwidth, a high quality version will stay of veoh.com and a smaller/faster version on Gametrailers.com. Already 1737 "clients" served in 7 days. Wow.

23-03-2008 : The original french version is available at www.coursedesombres.com. I'm finishing the subtitles for the english version and everything will be up before next week.






-----------------

Contact me to tell us about a free screening you'd organize.



-----------------

2010-16-01 : SnowCon, 8h in the AV Room, Black Bear Inn Conference Center & Suites, 4 Godfrey Drive, Orono, ME, United-States

2009-15-08: Gen Con Indianapolis, 6h30PM, at the Westin Chambers.
50 S. Capitol Avenue, Indianapolis, IN, United States

2009-14-08: Gen Con Indianapolis, 6h30PM, at the Westin Chambers.
50 S. Capitol Avenue, Indianapolis, IN, United States

2009-13-08: Gen Con Indianapolis, 6h30PM, at the Westin Chambers.
50 S. Capitol Avenue, Indianapolis, IN, United States

2008-09-12: Best-Of night of Kino Trois-Rivières at 7h30PM.
Charlot, 1606 Notre-Dame centre in Trois-Rivières.

09-03-2008: Pre-premiere: Sunday march 9 at 8hPM.
Charlot, 1606 Notre-Dame centre in Trois-Rivières

11-03-2008: Premiere: Kino Trois-Rivières' monthly presentation at 8h.
Charlot, 1606 Notre-Dame centre in Trois-Rivières